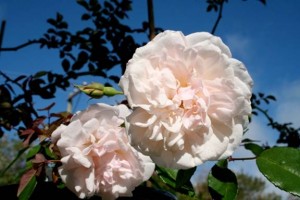 THE BERMUDA ROSE SOCIETY
NOTICE OF THE ANNUAL GENERAL MEETING 2019
TO BE HELD 3RD MAY AT 2PM IN HORTICULTURAL HALL, BOTANICAL GARDENS.
AGENDA WILL INCLUDE:
PRESENTATION OF TROPHIES AND AWARDS 2018-2019
AND
RATIFICATION OF THE PROPOSED SLATE OF OFFICERS FOR 2019-2O2O
President: John Howells
Vice President: Currently vacant*
Honourable Secretary: Judy Howells
Honourable Treasurer: Marijke Peterich
*The BRS Executive is examining the length of tenure of an incoming Vice President and how that might be changed. The BRS Constitution can be found on the BRS website www.rosesinbermuda.com
TIMETABLE
All entries received from:                           8.00 am to 9.30 am – please observe.
Stewards only in the hall from:                 from 9.30 am
Judging commences at:                              10.00 am
Members/Guests Refreshments:             1.00pm to 2.00pm
Meeting:                                                        2.00pm
ROSE ARRANGEMENT TITLES
Class A – 'That's Entertainment' – 24" x 24" no height restriction
Class B – 'Ups and Downs' – no size restriction
Class C – 'Summer Colours' – 15" x 15" no height restriction
Class D – Shadow Box
TROPHIES FOR EXHIBITS AT THE AGM
(separate from all the bench awards for points during the year)
There is a "BEST" silver trophy or equivalent for each section eg Best Mystery, Best Bloom Progression etc.
There is a silver trophy for the most points gained at the AGM.
There is a silver trophy for the best arrangement in each class.
Dear Fellow Members,
I would like to invite you to think of the final meeting of the rose year as the culmination of the preceding six meetings (October to March inclusive), a stupendous bench display, special awards to be won on the day irrespective of any previous participation during the year, an appreciation of all those exhibitors who have brought their roses throughout the year for your enjoyment, an appreciation of all the volunteer hours worked to keep your 65 year old Society vibrant, a cheerio to this President, and a warm welcome to your new President. And to experience yet again the BRS camaraderie and share our love of roses. And last but not least, take leave of each other in our meeting setting for a summer, but commit to staying connected as we continue to nurture over 300 roses for our SALE OF ROSES in NOVEMBER 2019, and to tend our Repository Garden at Waterville.
There will be a condensed trophy presentation format, and BELFIELD roses will be distributed to new members at a time and place convenient to them.
Offers of help in the following areas are keenly solicited! Please email me.
2 May 8.30-10am Set up
3 May (See timetable above) Receiving, stewarding, judging, refreshments
See you then!
Clare
Clare Russell
Bermuda Tel  +1 441 236 8199
Bermuda Cell +1 441 335 3400
Email: crussellbermuda@gmail.com